Corpus Christi, Texas --- 1st week, February 2009 RAWH Home Prior Month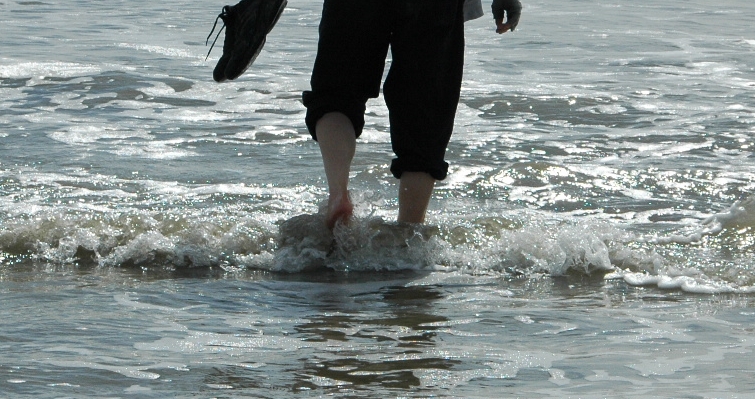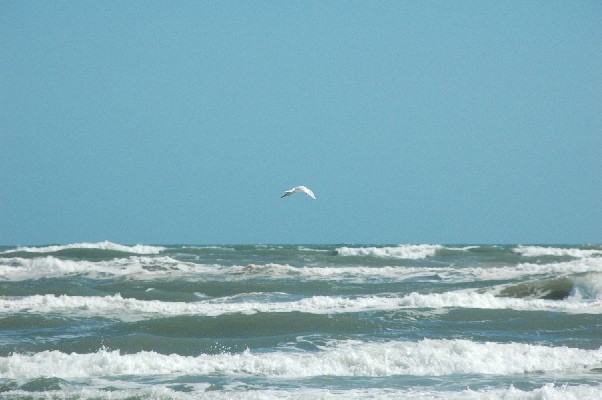 As promised, my pinkies dipped in the Gulf.
Getting to the Gulf actually took a bit of driving. The coast is separated from the ocean by a strait of water and Padre and Mustang Islands. Now that we are out of the "west", we expected to spend less time driving around since the distances between stuff would be much less. If you look at a map, Aransas Pass, Corpus Christi, and Padre Island are little specks "right next to each other". Not so. Our round trip to Padre Island took all day and almost 100 miles of driving. However, once we got there, it was an absolutely beautiful spot well worth the drive.
Another long drive north of Corpus is the Aransas National Wildlife Refuge. We were more impressed with this than we were the beach. The official web page advertises "Alligators to Armadillos". We saw a bunch of both less than 5 minutes into the park. They are not in cages. They are in the wild and you really don't want to get too close.
Aransas NWR is the winter home of several Whooping Cranes, of which there are only 146 on the planet. They were close to extinction but are making a recovery. We saw five of the 146.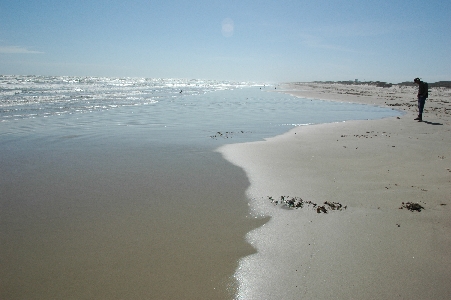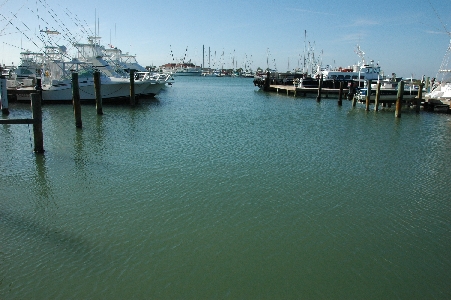 Birds go south for the winter. This is where they go: South Texas. We have seen more birds here than just about everywhere else combined. Look forward to updates to our "Critter Collection". I expect the number of critters on the page to double.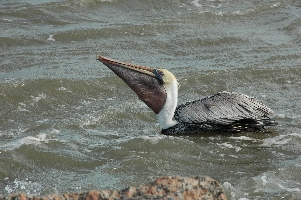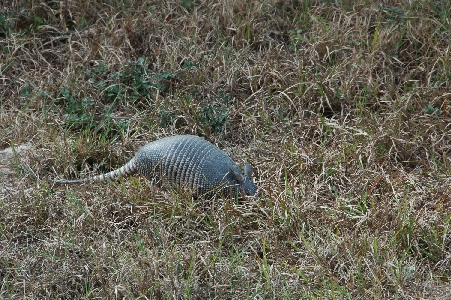 The kayaking spots all have 8 ft. long pet lizards. Cool.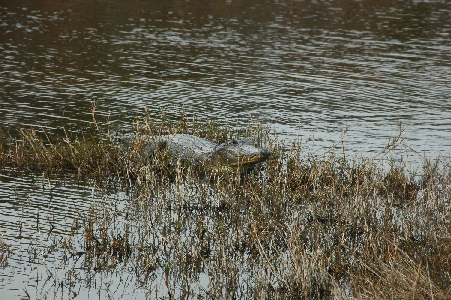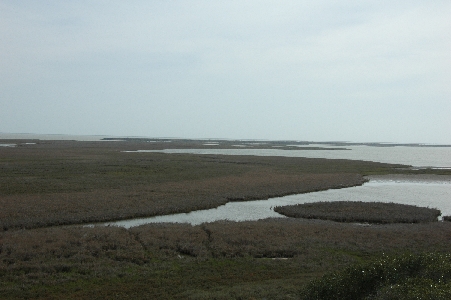 Corpus has the last WWII aircraft carrier, the USS Lexington. How big is this boat? One December in the 1940's, a drought severely reduced the hydro-electric power for Tacoma, WA. The president dispatched the Lexington to Tacoma. It supplied power to the city for 3 weeks.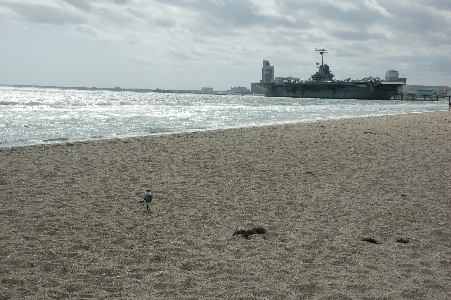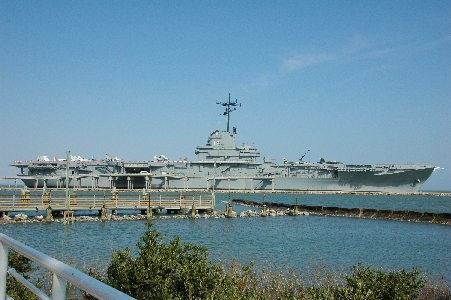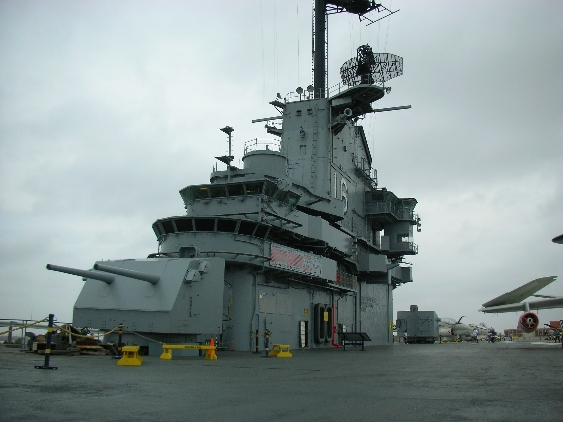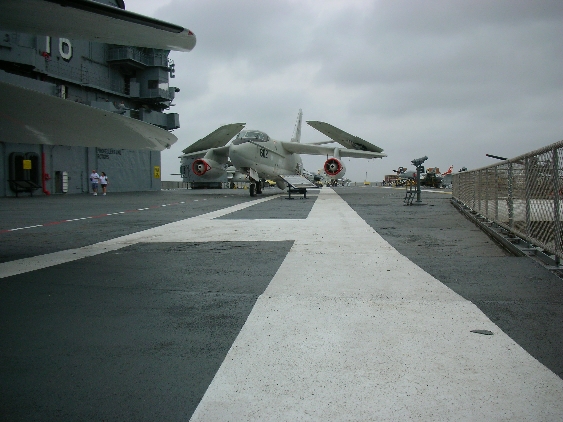 On our last day, we caught a dinky ferry for a quick trip over to Port Aransas, a sleepy little beach town. Here's Flipper: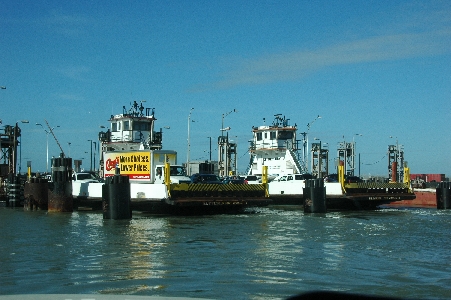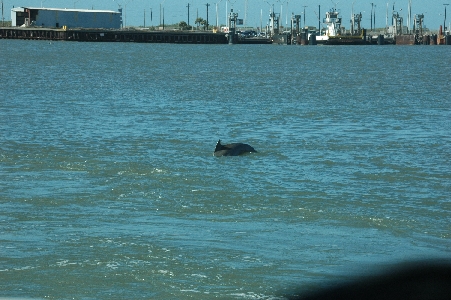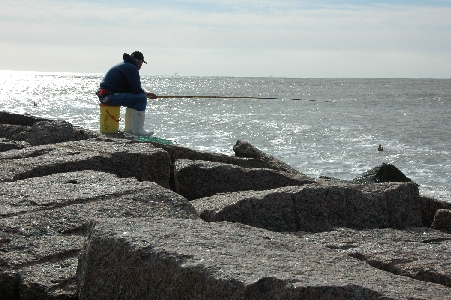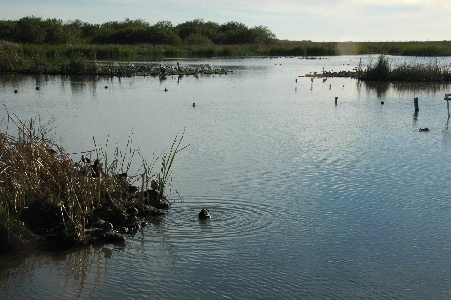 Next Stop, Beaumont Texas.
This is a shot of an I-10 interchange in Houston --- perfectly navigable by mere mortals.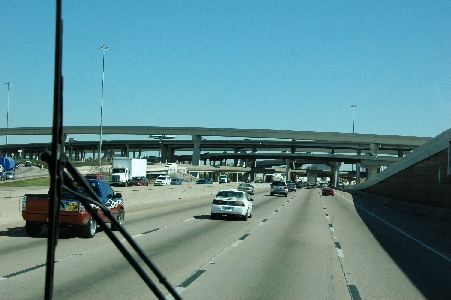 By the way, the San Antonio gets my nomination for Most Messed Up Highway Interchanges. A lot of folks think the East LA interchange, where the Golden State, Pasadena, Santa Ana and Long Beach freeways all come together, is a sorry mess. San Antonio gets my vote. San Antonio interchanges are as tall and elaborate as Portland's and as hopelessly as intertwined as LA's. I drove through San Antonio twice and got turned both times.
Beaumont, TX --- Feb. 09
This is Ritzy, our trip mascot. Does she look like a potato chip to you???????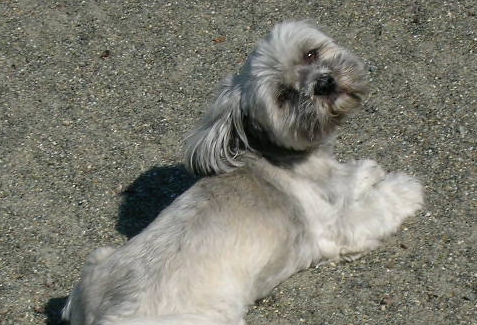 Then you're not the 150# pit bull "mix" owned by our neighbors Dwayne and Amy. Technically speaking, Ritzy should be on the "breakdown" page today. The sweet little "mix" down the row mistook our baby for a potato chip. In a lightning swift attack from behind, it clamped it's jaws on Ritzy's back and shook her like a rag doll.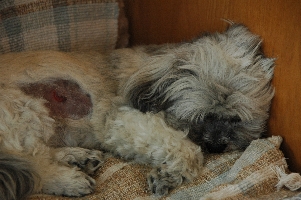 Ours neighbors were gracious enough to rush us to the vet, and, pick up the tab. Ritzy's not happy. We're not either. Taking to Amy later, we found out she was worried that we would make a fuss and insist they be kicked out of the RV park or have their dog put down.
We debated bicycling into Beaumont today check it out the town. We elected to drive. This turned out to be a good decision. Another neighbor, William, warned us that there were some "really creepy" neighborhoods in these parts that he won't enter without having his shotgun handy. Since I don't have a shot gun, we'll have to improvise, or, at least try to avoid those neighborhoods. So far, Beaumont is not making our top ten "Best Destinations" list.
Am I grumpy about the dog attack? Maybe. Should we make a fuss? Hmmmmm.
Beaumont, Texas --- 2nd week of February 2009
Ritzy has had a bad disc in her back for a few years now. My biggest concern about the dog attack was that Ritzy would re-injure her back. This turned out being true. Here wounds are healing but her back is killing her. Any twisting or bending has her screeching out in pain. This is not good.
Beaumont turned out being a rest break for us. Gray, drizzly and damp, the weather was not conducive to outdoor activities. Mostly, we loafed around nursing our dog back to health. We did explore the town and found the nice part. Nice is defined as having two Starbucks 150 yards apart.
I also dared the weather long enough to fix the dashboard vacuum pump (see the Breakdown page). The defective circuit breaker should have been a drop in replacement that would take about 10 minutes to install. Instead, the new parts had the mounting ear orientation off by 90 degrees.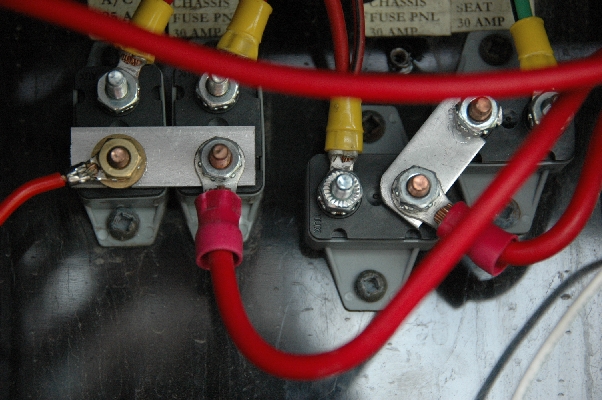 As you can see in the photo, the old style breakers on the left side lend themselves to a compact installation and sharing a common bus bar. The new style mounting ears are impossible to line up in a row. In the end, I swapped out 2 breakers instead of one, remounting both. Total time was about an hour. I have to wonder who dreamed up this design change and why they bothered. Why would the manufacturer do that? What about backward compatibility?
Lafayette, LA --- Feb 2009
This is an example of laid back travel: "You got the camera? No, I thought you had a camera." Generally, we each have one. In both Beaumont and Lafayette, we both left both cameras behind. These are cell phone shots..................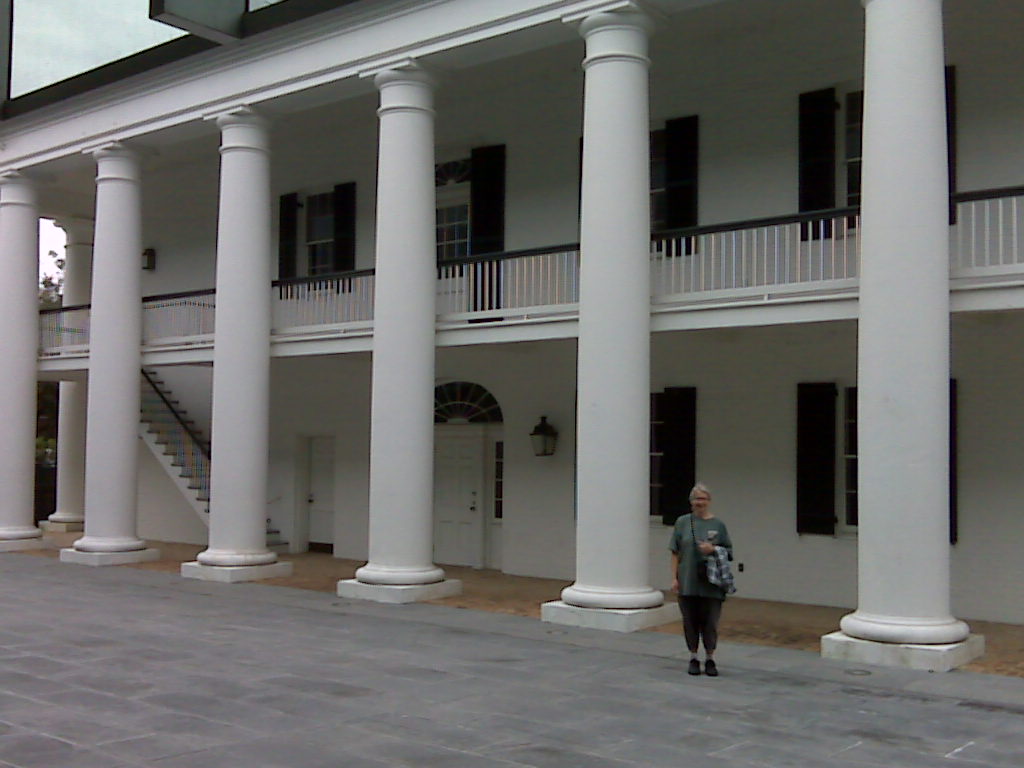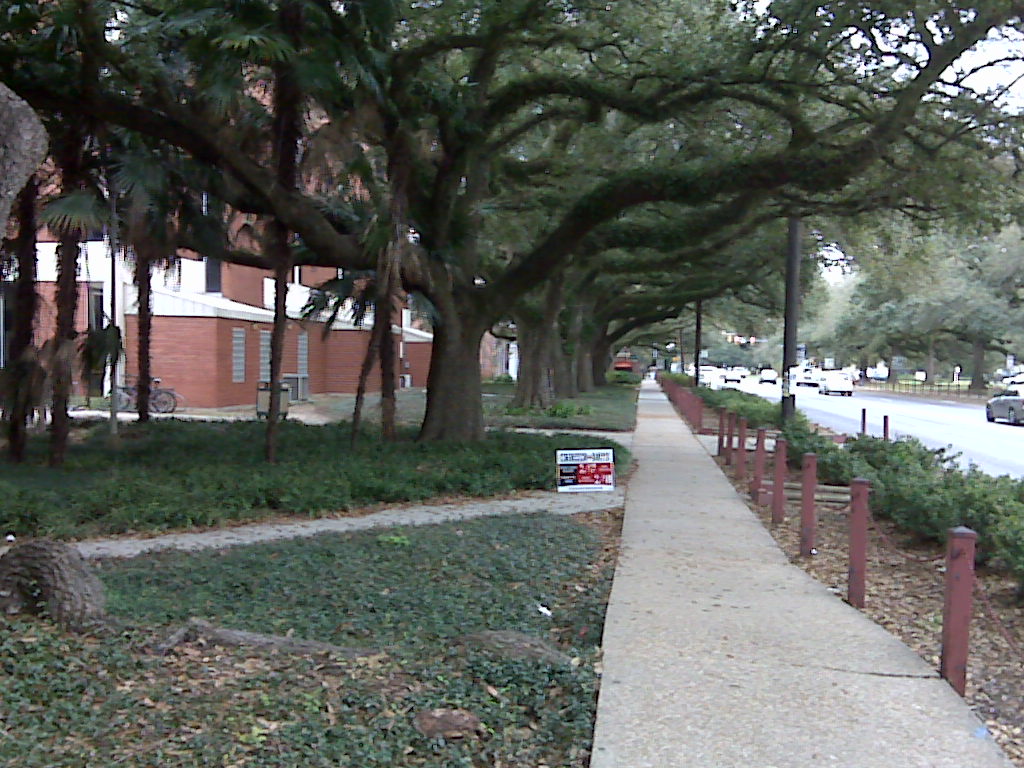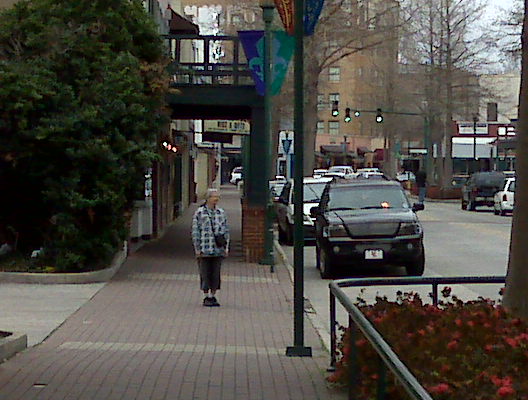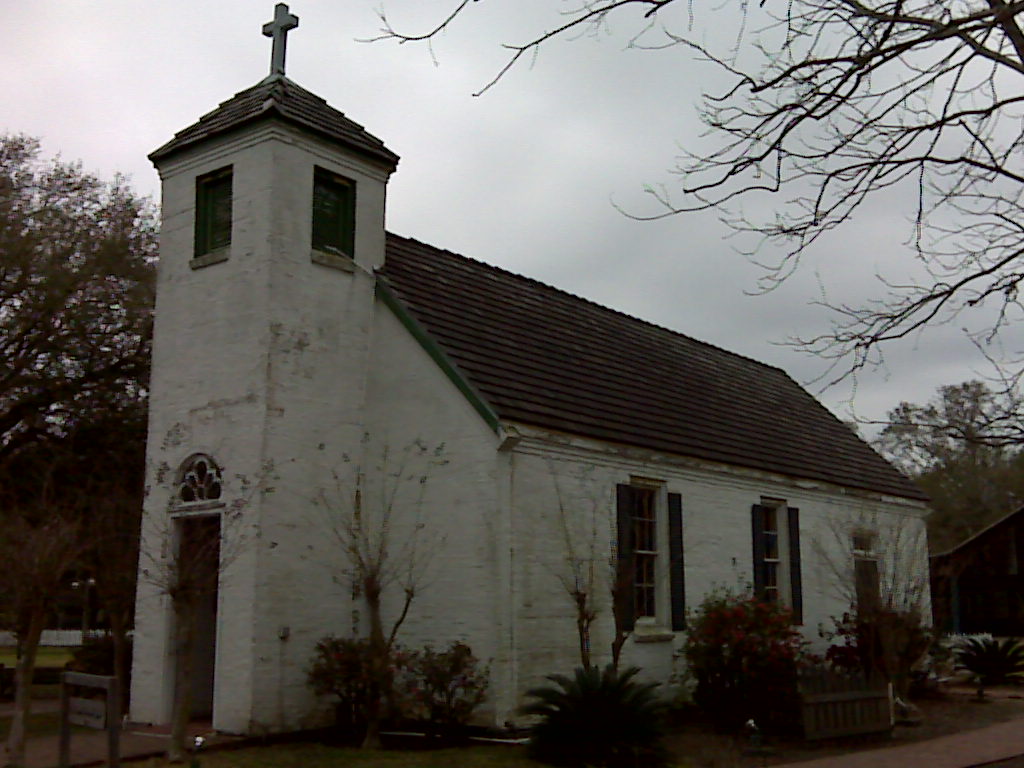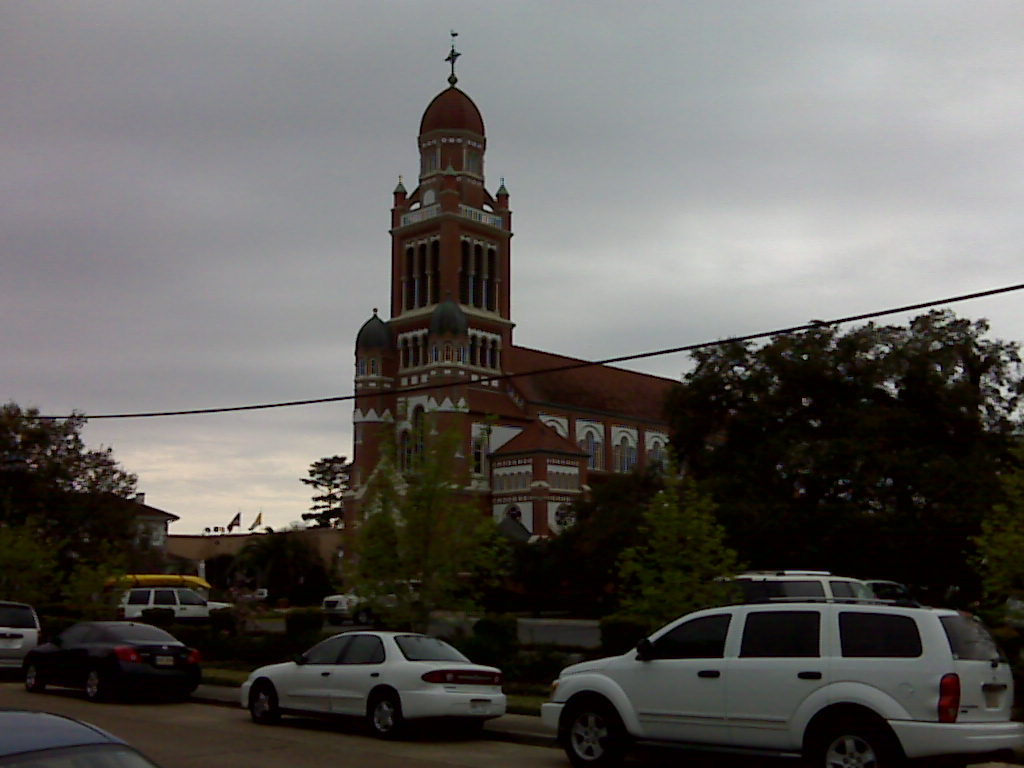 Baton Rouge, LA --- 3rd week of Feb. 2009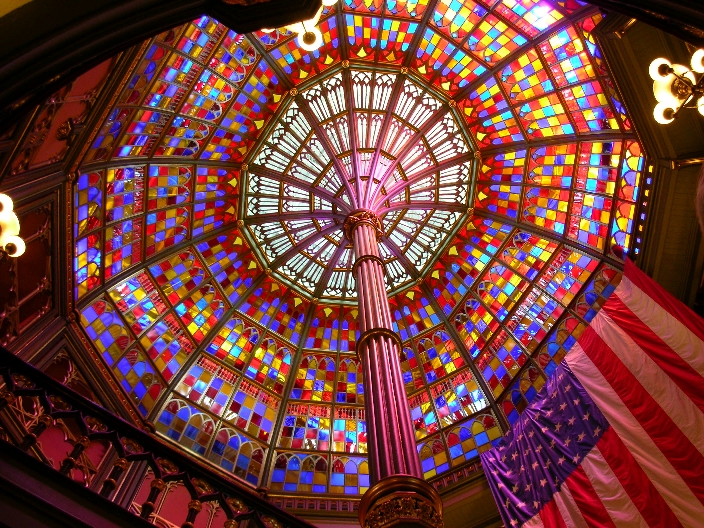 We had a blast in Baton Rouge. The weather was nice weather got our daily exercise strolling around downtown, taking in the sights.
The LSU Art Museum had the best Rodin exhibit we have seen outside of Paris. The Cajun crawfish etouffee was simply superb.
It's odd how things work out. So far, Baton Rouge and Fredericksburg, TX are our two favorite places on the southern leg of our trip. Both were accidental after thoughts.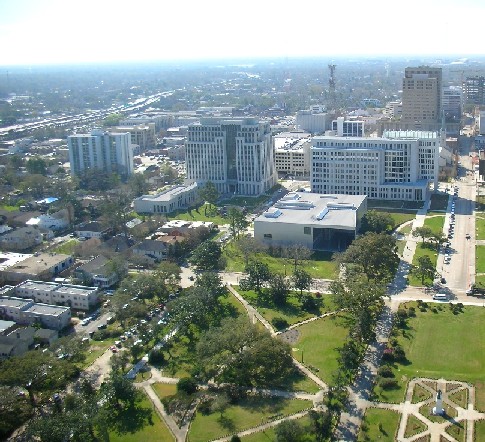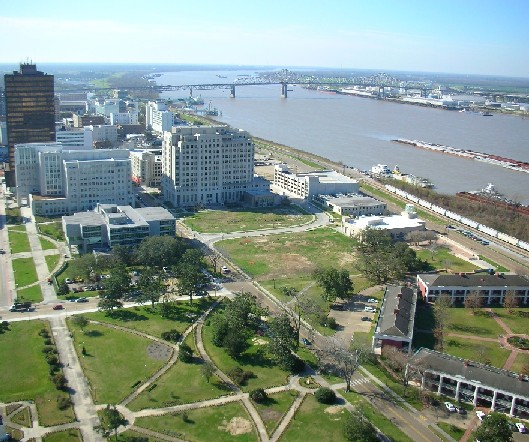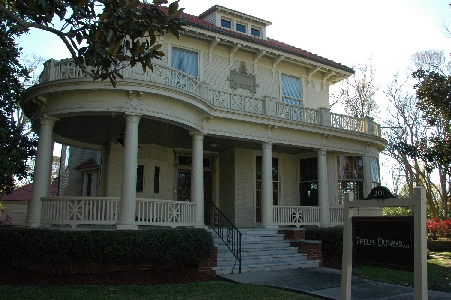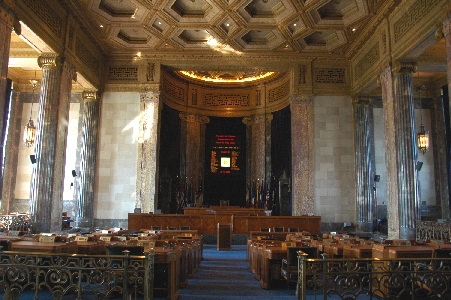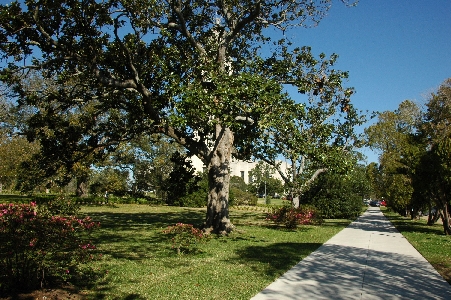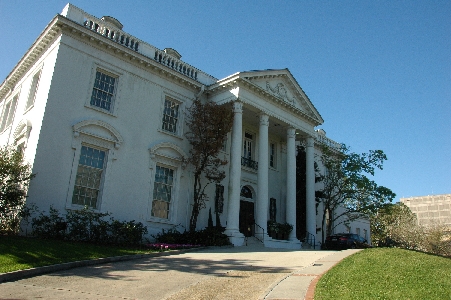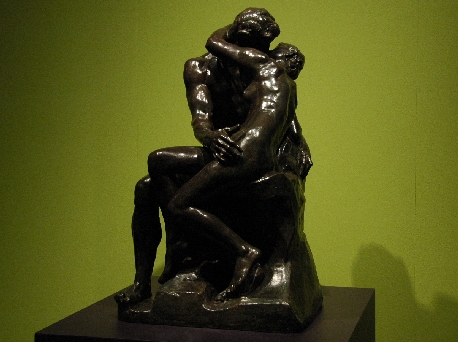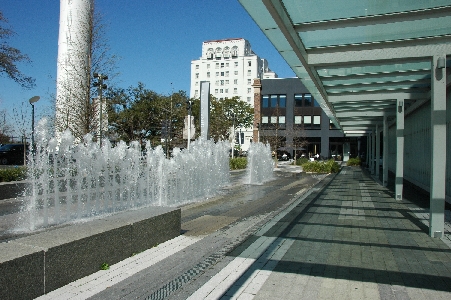 New Orleans, LA --- Mardi Gras Week, 2009
WARNING: If you are offended by pictures of unclad women, skip this section. Stop here. Do not scroll down!!!
Deb and I are boring book people. 18 years in Seattle, we did the Bumpershoot and Folk Life festivals exactly once. We're not much into crowds, noise, booze or general debauchery. But hey, it's never too late to learn, right?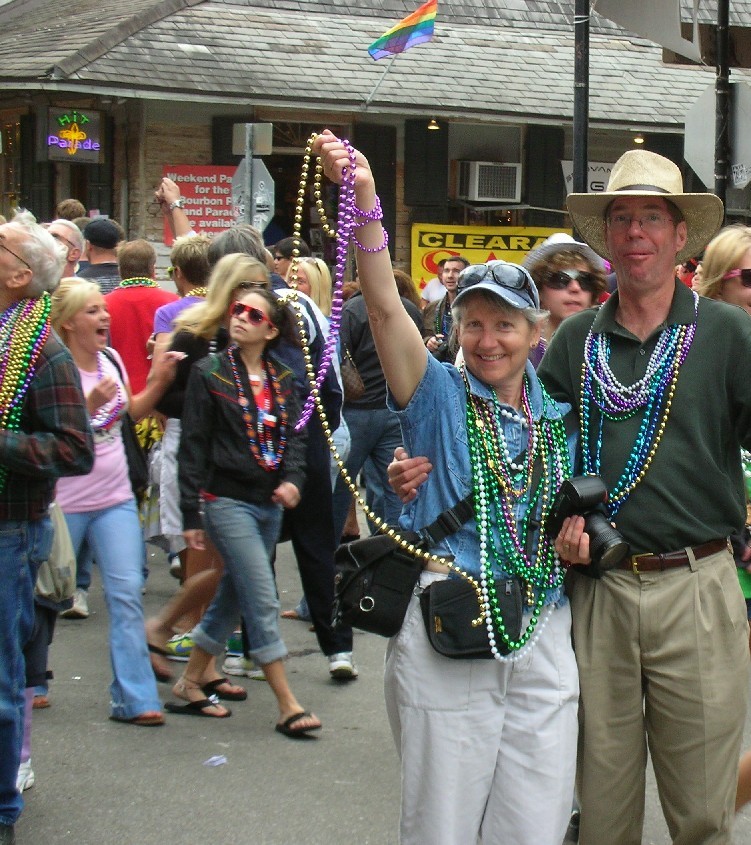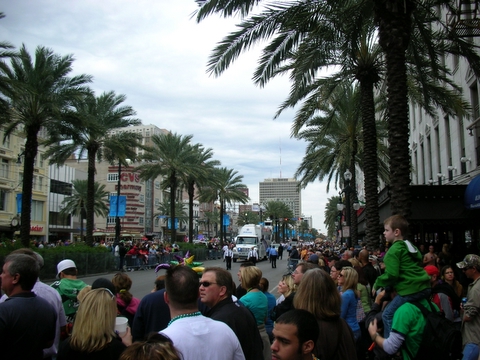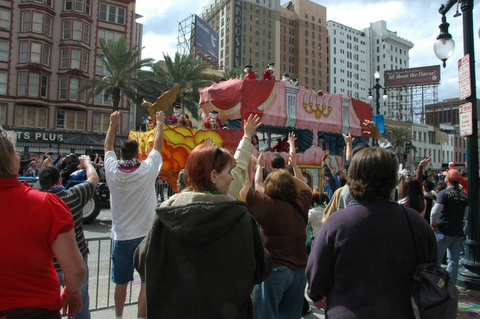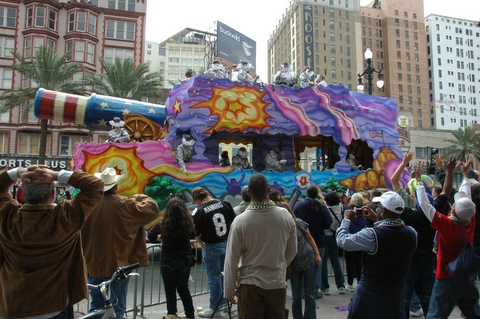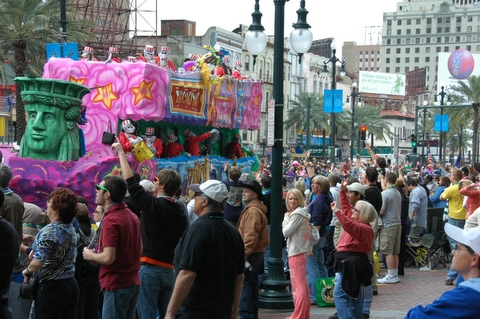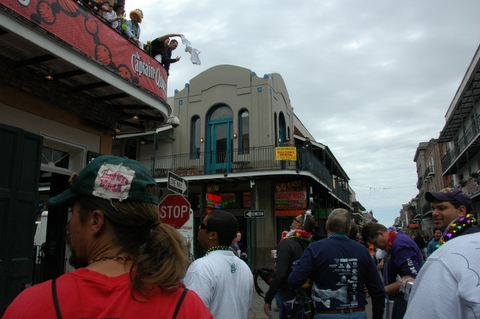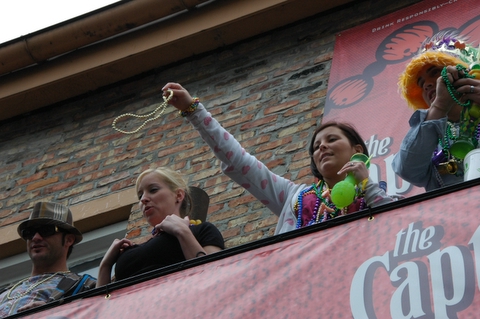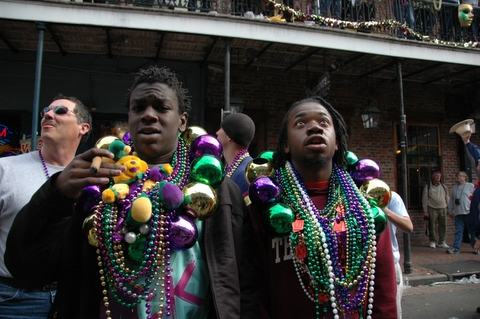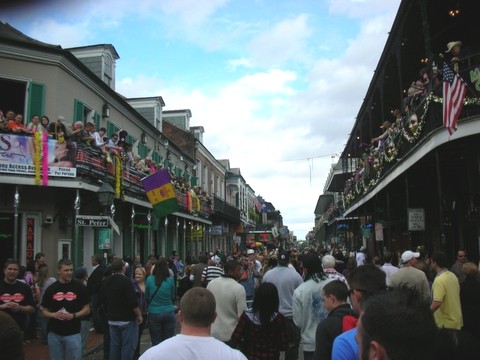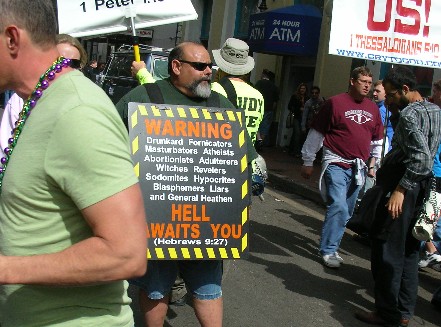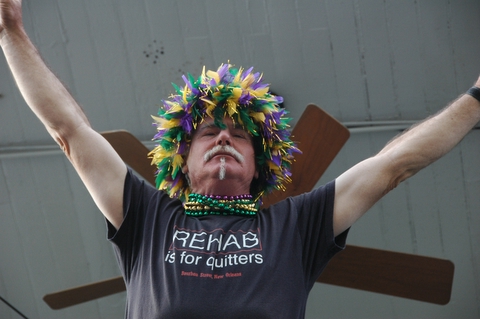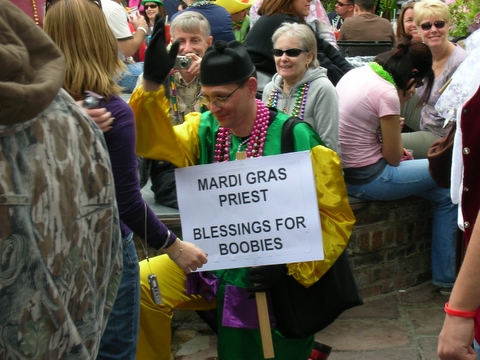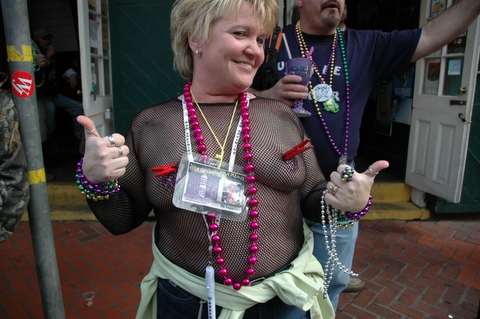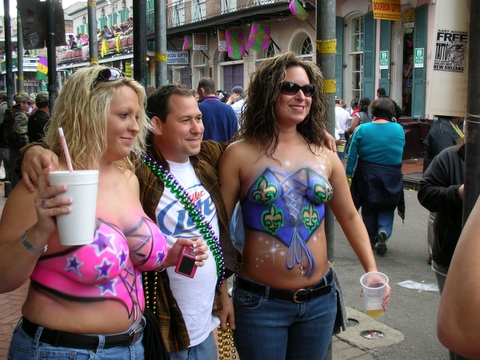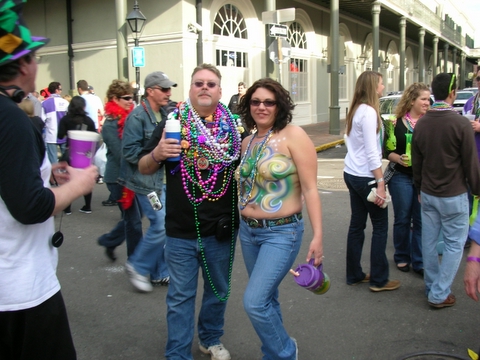 Biloxi, MS --- End of Feb., 2009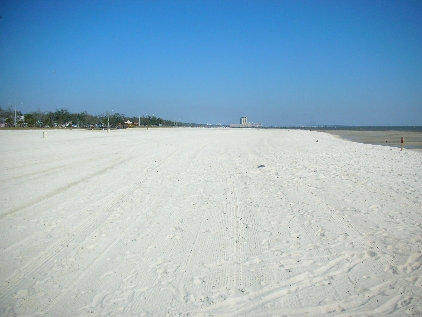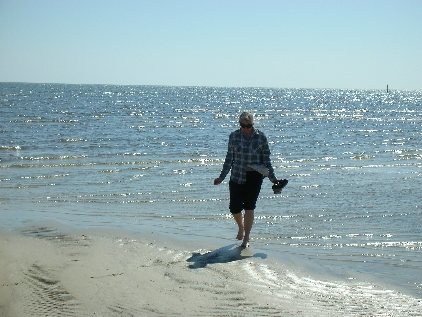 Since Corpus Christie, we've been moving pretty fast. Our stops have been two or four day instead of a week. We probably take a break in Mobile or Pensacola.
If you are into white beaches or huge casinos, Biloxi is your town. I counted five huge Vegas style casinos right downtown and three more casinos nearby. Other than the casinos, things are bleak. From Beaumount to Biloxi, especially around New Orleans, we've seen entire neighborhoods simply gone: empty Home Depots, Walgreen's, Winn-Dixie stores boarded up and falling apart --- entire strip malls or housing developments completely abandoned --- modern ghost towns. Seriously creepy. Katrina must have been a really devastating.
Here in Biloxi, we lucked into a private campground with a private 22 acre lake. My job the next few days is to find out if there are any fish in it.
I am happy to report that Ritzy is almost back to her old self.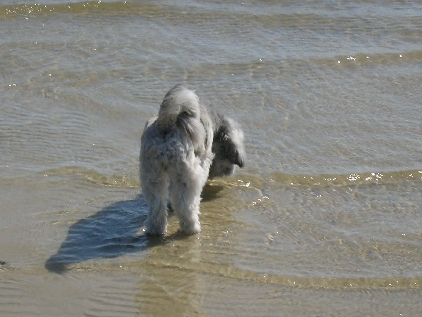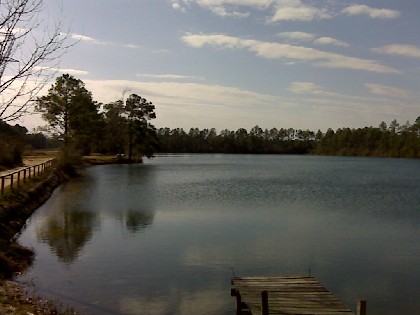 Biloxi, MS --- End of Feb., 2009
Yup. They got bass.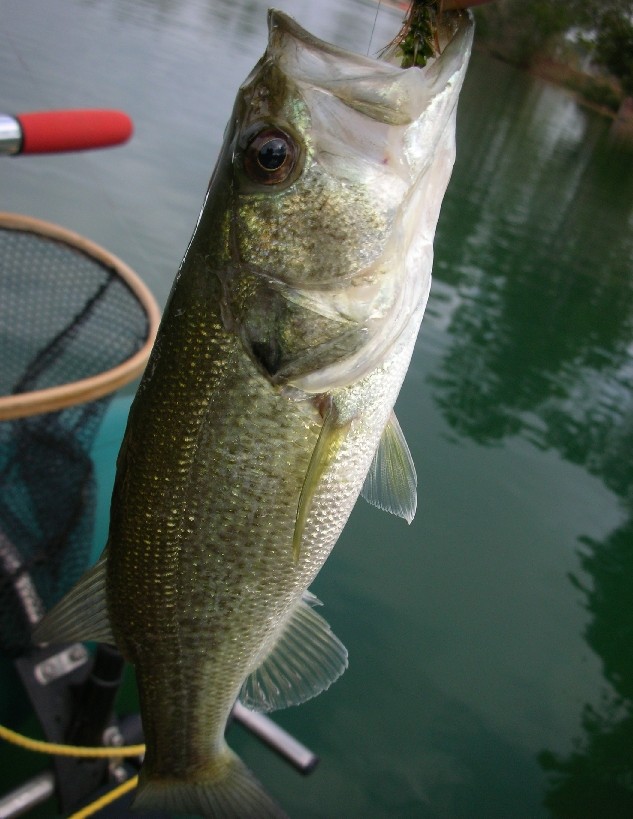 RAWH Home Deb's Critter Collection Contact Us Prior Month Next Month